Failed magnate Michael Taggart told to remove log cabin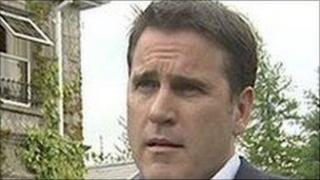 A property developer whose empire collapsed in 2008 has failed to overturn an order to remove a two-storey log cabin in his garden.
The Planning Appeals Commission had told Michael Taggart to remove the building at his Dungiven home because it did not have planning permission.
He had argued that there was a potential misapplication of policy.
Dismissing his application, the judge told him that he would have to remove the structure in its entirety.
'Separate dwelling unit'
Mr Taggart, whose house-building business was once valued at tens of millions of pounds but was placed into administration in 2008, issued several other grounds for challenge.
They included whether the building was immune from planning enforcement, alleged inconsistencies in the decision making process, and whether enforcement required its complete removal.
But in his judgement, Mr Justice Treacy said: "The commissioner formed the view that although the applicant's building was a described as a summer pavilion, it was more than simply a garden room or gazebo.
"It was a substantial and fully fitted two-storey building and was capable of use as a separate dwelling unit and therefore for planning purposes fell to be treated as self-contained accommodation."
The court heard how the building was noticed in November 2005, during a visit by planning officials to Mr Taggart's home for an unrelated application.
The building was glazed, with mains water and electrical supply fittings.
Downstairs consisted of a living/playroom area with a fireplace, a kitchen and a storage area.
The upper level had a vacant room which was taken to be a bedroom.
'Immaterial'
Mr Justice Treacy pointed out that applications for retrospective planning permission for the log cabin have been rejected.
Mr Justice Treacy added: "I accept the respondent's contention that the only means by which to remedy the breach, restore the land to the condition it was in beforehand and remedy the injury to amenity was to require the removal of the structure.
"In a similar vein moving the structure to another location would not remedy the breach.
"In any event, as the respondent has pointed out, it would not be possible to move the cabin since this would still require planning permission in the new location."