Londonderry bomb could have 'maimed' innocents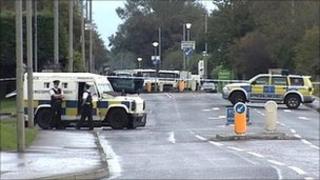 Police have said a bomb found in a car in Londonderry on Monday could have "injured or maimed" innocent people.
Three men aged 54, 49 and 46 were arrested in connection with dissident republican activity following the discovery.
The alert began on Monday afternoon when police officers stopped a car at Whitehouse on the Buncrana Road.
Area Commander Chief Inspector John Burrows said those responsible were "trying to drag us back to the past".
"The blame for any disruption yesterday lies squarely with the misguided individuals who were responsible for this bomb being on a busy road close to peoples' homes," he said.
Disruption
"I am in no doubt had the device exploded it could have injured or maimed innocent members of the public and it is due to the efficient evacuations set in place in the surrounding areas that no-one came to any harm."
Army bomb experts were called to the scene and the area was cordoned off. The Army later confirmed that the device was a bomb.
The alert caused widespread disruption for motorists. Four homes were also evacuated.
It ended at 02:30 BST on Tuesday and the area has now returned to normal. Police have taken the car away for technical examination.
Local MLAs have condemned the actions of those behind the bomb.
The SDLP's Pat Ramsey said: "We're trying to make a difference in Stormont and in politics and we are getting there.
"But those behind these attempts are putting back these efforts."
Raymond McCartney of Sinn Fein added: "The message has to be very, very clear. The people of this city are totally opposed to what they are doing.
"What is absent in all of this is that these groups say they are doing it on behalf of the community. But the community doesn't want it."