Appeal to Northern Ireland schools over cyber bullying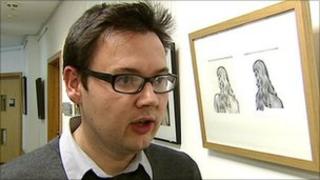 Cyber bullies - people who use mobile phones or social media to torment their victims - are the target of this year's anti-bullying week.
Schools in Northern Ireland are being encouraged to sign up to the week's events, which take place in November.
Recent research has shown that about one in five pupils have experienced cyber bullying.
Lee Kane, from the Northern Ireland Anti Bullying Forum, said it was important that schools get involved.
"Bullying can have a short-term impact on how young people are performing at school, their attendance at school and their general well-being," Mr Kane said.
"A lot of that can stay with them right into adulthood and have quite a profound effect on their lives.
"In cyber bullying the behaviour is exactly the same, it's only the way that it's happening that's changing.
"We must remember that young people in most cases have their mobile phone with them in most cases 24/7, so the bullying can follow them."