The Consumer Council tells Translink to coax motorists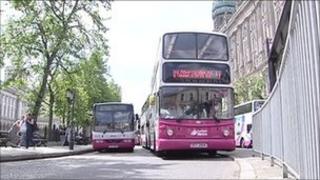 The Consumer Council has called on Translink to do more to entice motorists away from their cars and on to public transport.
Translink has published a survey which suggests that the majority of its passengers are happy with the service.
But the Consumer Council said that converting non-users should be a priority for the government-owned company.
It added that Translink had failed to meet call centre targets.
Translink said its customer satisfaction ratings for both bus and rail showed it was getting its services right.
"We have beaten our charter on-time targets for Ulsterbus, NI Railways and Metro," spokesperson Ciaran Rogan said.
"NI Railways achieved the highest ever score when customers were asked about their overall satisfaction with the service they use."
Scott Kennerly, head of transport at the Consumer Council, said that passengers had responded positively to Translink's decision to hold its fares this year.
"More than 80% of passengers surveyed had been using the service for over two years. So we know that people who use the service value it," he said.
"We need to shift attention now to those who could use the service but don't and those who would use it but can't so that we focus on growing passenger numbers."
He added that the experience people had when they contacted the call centre could influence their view on whether to use public transport.
"At the Consumer Council's request, future monitoring will also survey the views of passengers using the Translink website to find out if it meets their requirements," Mr Kennerly said.