Edwin Poots sets out health review goals to MLAs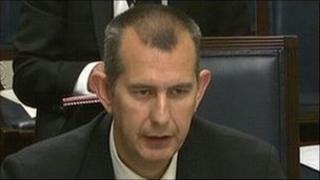 The Health Minister Edwin Poots has said reshaping the NI health service for the next generation must be the top priority in the coming months and years.
The minister announced in June that experts would carry out a review into how health and social care could be changed.
This could lead to fewer hospitals, but greater choice in community care.
It is due to be completed by 30 November.
It is being led by the chief executive of the Health and Social Care Board, John Compton.
Appropriate care
Mr Poots told the assembly on Tuesday that the review of Health and Social Care Services (HSC) was needed.
He said it was to ensure that "people receive the right care in the right place at the right time - be it hospital treatment, social services or services from their GP".
"It is not about saving money, although clearly we have to live within our means, but it is about improving the quality of services and the outcomes for patient and clients," he said.
"If we it get it right, we can avoid many episodes that lead to the need for hospitalisation. It will lead to an altogether better experience for patients and their families."
The minister said a key element of the review was the need for a "shift" from a hospital setting as the key focus of health service provision, to the community, but only where it was "appropriate and safe" to do so.
"I want to see a shift in care from hospitals into the community," he said.
"We must be responsive to the world we live in and treat patients at a time and place that is not just convenient but is right for them.
Resources
"I also want to explore using the voluntary and community sector much more, as well as using the private sector where appropriate."
Mr Poots said it was clear that the health service could not continue to operate as it has done because there were "simply not the resources to do so".
"We need action to ensure we maintain safe and effective services for people in the future," he said.
"In order to achieve this, we must challenge the status quo, stop doing what does not work and acknowledge that the current design of some of today's services is no longer fit for purpose."
The minister told MLAs that he had set a "challenging timescale" for the completion of the review.
He said it was important that clarity was provided urgently on the future direction of health and social care services in Northern Ireland.
"I have asked the review team to ensure there are appropriate opportunities for public consultation and engagement with stakeholders. I want anyone who feels they have a contribution to make, or who wishes their voice to be heard, to provide comments."