Family 'at risk' after Moroccan man flees Strabane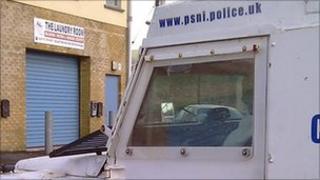 A business woman in Strabane whose husband was forced to leave the country has said she believes her life is now at risk.
Philomena Monaghan said her husband Yousef Rhasrane had to return to his native Morocco following death threats.
He was confronted by two armed men in Springhill Park last week during a delivery for his laundry business.
Ms Monaghan said she had received further threats, including a letter ordering her to "get out".
"It is not fair. He is afraid of his life and he is afraid of something happening to us," she added.
"They have destroyed our whole family, because I have my two daughters, my son and my grandson."
The gang behind the threats have accused Mr Rhasrane of drug dealing, but Ms Monaghan said she believed her husband was targeted because of his nationality.
"He is 100% not involved in drugs," she added. "Is it because you've a wee business and a car that you're dealing drugs?
"I want answers, I want whoever is involved in this to come to me personally and meet me face to face."
'Not welcome'
Strabane Police Commander Chief Inspector Andy Lemon described those behind the threats as "faceless thugs with their own agenda, deciding who is guilty of drug dealing or anti social behaviour, or whatever they deem as the crime of the day".
"What we have is a criminal gang trying to dominate a community. They are not welcome in Strabane," he added.
Mr Lemon said he "understood" Ms Monaghan's fears and that the police were trying to find those responsible for the threats.
"We will work with anybody and try to deal with this sort of behaviour," he said.
"If someone has broken the law it is for the courts to decide. These people are acting as judge, jury and executioner.
"In the case of Mr Rhasrane, he does not accept the rationale behind this threat. These people did not give him a chance to appeal.
"People should be able to work and live in Strabane without fear of intimidation," added Mr Lemon.
Ms Monaghan said she was considering leaving the country in order to protect her family.