NI Water profits soar to £80m despite crisis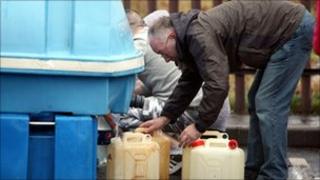 Northern Ireland Water has made a profit of £80m in a year which saw the worst crisis in the company's history.
The profit is up from £57m in 2010 and comes despite a winter of severe discontent.
At the height of the Christmas freeze, a million people phoned the NI Water helpline because of burst pipes and water problems.
Thousands of people were left without water - some for more than a week.
The board's chief executive Laurence MacKenzie resigned over his handling of the emergency.
The Utility Regulator found that the company was not prepared to deal with the magnitude of the crisis.
As a result of recent profits, NI Water's finance director Ronan Larkin said improvements could be made.
"We are able to continue to deal with investment programmes in our water mains as well as our customer systems, seeking to make sure that we can deal with customer telephone calls in a better way that we had been able to deal with them back in December 2010."
As part of its operating structure, NI Water must pay a chunk of any profit back to the Department for Regional Development.
This year's dividend to the tax payer is £36m, which is £1m more than last year.
It is understood most of the remaining profit will be re-invested back into the business.