Maire Rankin trial: Victim a lovely lady says Karen Walsh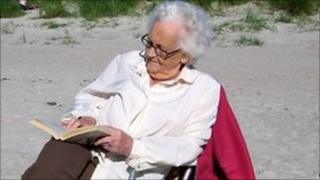 The woman accused of murdering Newry pensioner Maire Rankin has described her as a "lovely lady".
Mrs Rankin, 81, was found beaten to death in her Dublin Road home on Christmas Day 2008. The crown claims a crucifix was used in the murder.
Karen Walsh, 45, said she had visited Mrs Rankin, her neighbour, three or four times before her death, including at 23:30 GMT on Christmas Eve.
She said "she was fine in that she was still alive" when she left.
Ms Walsh said, however, that Mrs Rankin's "breathing was wheezy" during the visit.
The accused, a Dublin-based pharmacist, owned the house next door but only stayed in it at weekends.
In her evidence at Belfast Crown Court, she described how she visited Mrs Rankin on Christmas Eve night 2008.
She said she had brought a bottle of vodka as a present for neighbours who were out, but had opened it and drank some. She said Mrs Rankin "was fine about it".
She said she was delivering a Christmas card to Mrs Rankin.
Asked if at any stage while she was visiting had she assaulted the pensioner, sexually assaulted her, had an argument with her or went back in to attack her, Ms Walsh told defence lawyer Peter Irvine: "No I did not... I could not have been any nicer to Mrs Rankin."
Ms Walsh claimed they hugged and kissed each other before she helped Mrs Rankin over to her bed to use a nebuliser mask to allievate breathing problems.
The jury had already heard that Ms Walsh had repeatedly asked police at the scene cordon if Mrs Rankin "had been beaten" and if the door to the house had been left open.
'Beaten'
On Tuesday, she told the court the reason she had asked this was because her husband told her the police were treating the death as suspicious and because she had seen it on teletext, accepting that was the first time she had mentioned teletext.
"Why did you presuppose she had been beaten," the prosecuting lawyer Liam McCollum QC asked.
He said a suspicious death could have meant knifed, suffocated or strangled.
"You could only think 'beaten' if you knew she had been beaten and you thought beaten because you had beaten her - that's the truth?," he claimed.
But Ms Walsh again refuted the allegation.
Ms Walsh was asked why, when the police at the scene told her she was the last person to see Mrs Rankin alive, she rang a neighbour asking him who was the last person to see Mrs Rankin.
"You were afraid that someone had seen you leaving the house and you were trying to cover your tracks, that's the only explanation," Mr McCollum said.
Ms Walsh denied the allegation and repeated "she could not have been nicer to Mrs Rankin".
Mr McCollum put it to Ms Walsh that it was Mrs Rankin's "strong view that you should have been at home with your child" on Christmas Eve.
Ms Walsh again denied the suggestion and said Mrs Rankin had thanked her "for coming over."
Ms Walsh burst into tears when Mr McCollum put to her that the comments about Christmas and children would also be "the natural view for you to have".
She said again: "I could not have been nicer to her."
Earlier, the court heard that the accused had refused to answer police questions during 19 interviews after her arrest.
In the course of these interviews her solicitor read out a statement in which his client denied involvement in Mrs Rankin's murder.
In a later interview Ms Walsh also read a statement in which she denied any knowledge of her neighbour's murder.
The court heard she had said: "I am very upset. This whole thing has been a complete nightmare."