More people surviving lung cancer in Northern Ireland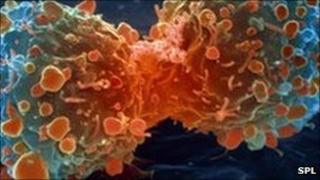 More people in Northern Ireland are surviving lung cancer thanks to the speed of diagnosis and treatment.
Lung cancer is a particularly ruthless disease, as unlike breast cancer early detection is difficult.
Recent statistics from the Northern Ireland Cancer Registry show that currently out of 100 lung cancer patients 29 would survive after one year.
That is around six more people compared to 10 years ago.
Doctor Jonathon McAleese, a clinical oncologist at Belfast's cancer centre, said he was optimistic the figures are moving in the right direction.
He said the use of radical techniques meant that patients in Northern Ireland had a greater chance of being cured compared to their counterparts in England.
"It is likely that the reason our survival rates are higher in Northern Ireland is because of the coordination of care and the specialists who are involved in fast-tracking patients to treatment as rapidly as possible," he added.
Last year in Northern Ireland, 600 more people died from lung cancer than breast cancer.
Campaigners have said these statistics prove there should be greater media and advertising emphasis placed on the disease that is traditionally associated with smoking.