Jailed fraudster had hundreds of fake IDs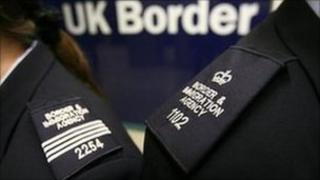 An immigration fraudster, who was caught with a cache of fake identities at Belfast docks, has been jailed for 18 months.
Fayyaz Ahmed, a 54-year-old Pakistani national, was arrested while trying to board a ferry in February.
He had three computer memory sticks and two mobile phones containing more than 700 false and fraudulently altered documents.
They could have been used to produce dozens of false identities.
He had travelled to Northern Ireland from South Africa via Zambia, Turkey, Dublin and Cork before being intercepted while trying to board the Belfast to Stranraer ferry.
Ahmed pleading guilty to possessing documents to create false identities and three counts of possession of false documents, including a South African passport that had been improperly obtained, a South African identity card and driving licence.
Earl Aiken, of the UK Border Agency in Northern Ireland, said: "We have stopped a sophisticated criminal operation, and I have no doubt that fake documents would have been used to flout immigration rules and gain employment by deception.
"This case shows those who try to circumvent our controls and abuse the Common Travel Area will be caught, prosecuted and considered for deportation."
On completion of his sentence Ahmed, who has been held on remand since his arrest, will be considered for deportation from the UK, as recommended by the trial judge.