UVF supergrass case: Robert Stewart denies assumptions charge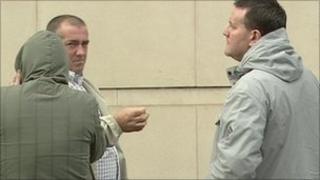 One of the key witnesses at Belfast's UVF supergrass trial has denied basing his court testimony on assumptions rather than clear recollection.
Robert Stewart was accused of placing some defendants at punishment beatings in 1996, because they were who he would normally have expected to be there.
Stewart, who is testifying against 14 men, denied the suggestion.
Nine defendants, including alleged former UVF leader Mark Haddock, are accused of murdering a rival loyalist.
UDA man Tommy English was shot dead in front of his family at his Newtownabbey home on Halloween night in 2000.
It also emerged on Tuesday that both Robert Stewart and his brother Ian had initially failed to mention key evidence against one of the men in the dock, Darren Moore.
Defence Counsel Charles Adair QC pointed out that Stewart failed to mention to police that Mr Moore was a passenger in a car during a reconnaissance of Mr English's house on no less than 21 occasions, before remembering his presence on the 22nd.
Stewart also denied trying to blackmail parole commissioners into giving him an early release date from prison, by threatening not to give evidence.
He had told a police handler: "Get me out of here, or I'm not giving evidence."
In court he said that was "just one of those silly things I said I shouldn't have said."
Both the UVF (Ulster Volunteer Force) and UDA (Ulster Defence Association) are loyalist paramilitary groups responsible for the murder of hundreds of people during the Troubles.
The trial is the biggest and most expensive to be held in Northern Ireland for many years.
The 14 defendants are being represented by 24 barristers and eight firms of solicitors and the trial is expected to last for 11 weeks.
The term supergrass was first used in Northern Ireland in the 1980s when a number of terrorist suspects were convicted on the evidence of former comrades.