Bill Barbour killed wife Anne 'to preserve her dignity'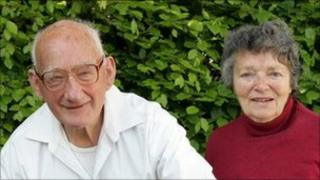 A coroner has said that an Enniskillen man who killed his wife in 2009 wanted to preserve her dignity at the end of a "devastating illness".
Bill Barbour, 89, suffocated his 83-year-old wife Anne, who was in the latter stages of Alzheimer's Disease.
He then took his own life by drowning himself in Rossole Lough near their home on the Sligo Road.
Coroner Brian Sherrard said no-one could fail to be moved by the tremendous bond the couple shared.
They had been married for 61 years and had four children.
Their daughter, Pauline Barbour, told the inquest her mother's illness had got much worse in the months before her death.
When she saw her parents for the last time on the morning of their deaths, her father had told her to give her mother a kiss.
As she drove away, her mother was trying to climb out of the dining room window.
She added that Mrs Barbour's mother had herself suffered from Alzheimer's and her children growing up remembered her saying "you must never let me go that far."
The family were said to believe Bill Barbour was carrying out those wishes.
Their son, James Barbour, said his father had told him two days earlier that he thought his wife would have to be put in a care home.
James said he had suggested they could come and live with him.
He added that residential care was not realistic and speculated that his father was checking that the end of the road had been reached.