Edwin Poots considers charging women for non-medical caesareans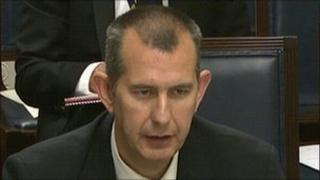 The health minister has said that women in Northern Ireland who choose to have a Caesarean for non-medical reasons may have to pay for the operation.
Edwin Poots is launching a consultation on a review of maternity services.
Women at low risk will be encouraged to consider having their baby in a midwife-led unit or at home, if appropriate.
Around 30% of deliveries are by Caesarean section - the highest level in the UK and Ireland.
Mr Poots said giving birth was a natural process and superb assistance was available to help women through the delivery.
"It costs several thousand pounds more for a Caesarean section so there are savings to be made," he said.
"This isn't about saving money per se, what we want to encourage, is more people to give birth naturally because it has better outcomes for the mother and the baby.
'Natural choice'
"Thank God for Caesarean sections, my own first child was born by Caesarean, and it was absolutely necessary. All the rest were natural.
"We want to ensure that people take the natural choice where they can and to have that back up where they need Caesarean section to take place."
The term "too posh to push" is often used to describe women who choose to have a caesarean for non-medical reasons.
At present, women who elect to go private to have a Caesarean on non-medical grounds pay for their pre and post-natal care.
But the cost of the delivery is met by the health service.
Mr Poots said if women chose the more expensive option, it was their choice.
"People are already buying private care in the hospital," he said.
"If you want to go down that route, if you want to pay for it, it is totally up to yourself, but I don't feel that we the public in Northern Ireland should be paying additional money for people to have the choice."
The minister said he expected to see a "considerable" number of midwifery units being established.
"A lot of them would be set up in association with the main maternity unit, so they would be on the same site as existing hospitals," he said.
"Women would be giving birth totally with the midwives but there would be a fallback position of having an obstetrician nearby if things do not work out."
Breedagh Hughes from the Royal College of Midwives said the focus was on trying to "normalise" child birth.
Major surgery
"We have a very high Caesarean section rate and it is not generally realised, but it is actually major abdominal surgery," she said.
"You're asking a woman who has had major abdominal surgery to recover from the surgery and look after a brand new baby at the same time.
"One of the things we hope will come out in the review will be asking trusts to look at the numbers of deliveries that they have, to look at the reasons for the Caesarean sections and to focus on trying to prevent women from having that first Caesarean section, which very often leads to the old adage - 'once a section always a section'."
She said a "fear" of child birth stopped many women from choosing a natural birth.
"When one in every three women gives birth by Caesarean section, you lose that critical mass of people who know what it is like to give birth normally, and women are losing confidence in their own body's ability to give birth," she said.
Ms Hughes also welcomed proposals to shift the focus to midwife led care.
"I think if women are given the opportunity to get to know and trust their midwife and to trust their own bodies, we're more likely to see women saying, 'OK, this is what nature intended me for and this is what I'm going to do'," she said.
Dr Paul Fogarty, who helped write the review, said its thrust was towards a network of maternity services where women were cared for nearer to home.
Dr Fogarty, from the Royal College of Gynaecologists and Obstetricians, added that unnecessary interventions would be avoided, a policy backed by evidence from across the UK.
The consultation will run until 23 December.