Maire Rankin trial: Sex assault 'staged to cover tracks'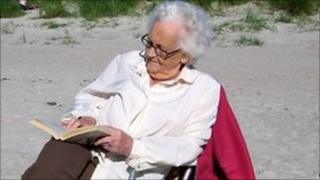 The woman accused of murdering Newry pensioner Maire Rankin beat her to death in a drink-fuelled rage and staged a sexual assault to cover her tracks, it has been claimed in court.
Karen Walsh denies the murder of her 81-year-old neighbour on the Dublin Road on Christmas Day 2008.
Under cross examination Ms Walsh denied a series of propositions about events on the night of the murder.
In reply to the scenarios she replied: "I couldn't have been nicer."
Liam McCollum QC put it to Ms Walsh she had been drinking heavily and stormed off after a row with her husband, taking a bottle of vodka with her.
Mr McCollum claimed Mrs Rankin let her in, not knowing she had been drinking.
When the 81-year-old lectured the accused on her behaviour in leaving her young son and husband, Mrs Walsh had flown into a rage the court heard.
Mr McCollum claimed she grabbed a crucifix and beat her alleged victim. He claimed she then stripped the elderly lady and staged the sexual assault to cover up her alleged crime.
The prosecution further claimed that in the panic Ms Walsh tried to call her husband from Mrs Rankin's phone because he had locked her out of their own house .
He told the court that Karen Walsh's story that she had been worried about Mrs Rankin's breathing, and had searched downstairs for an inhaler, was not true.
He revealed that just such an inhaler had been found on a bedside locker in the same room as Mrs Rankin's body.
In reply to the scenarios put to her, Ms Walsh replied that she could not have been nicer to Mrs Rankin.
Later, the court heard from two expert witnesses for the defence who offered different scenarios of how Mrs Rankin would have suffered severe bruising to her face and injuries the prosecution says would have been caused by a sexual assault.
One of them, Professor Basil Farnan, suggested the bruising could have been caused when Mrs Rankin fell face first while wearing a nebuliser mask.
He said the injuries blamed on a sexual assault were actually the result of a medical condition common to post-menopausal women.
The case continues.