Two men arrested over 'barbecue attack' on Paul McCauley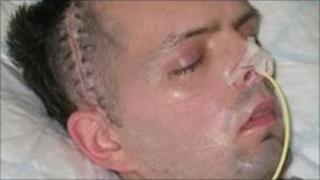 Two men, both aged 22, have been arrested in connection with the attempted murder of a Londonderry civil servant five years ago.
Paul McCauley was attacked by a gang at a barbecue in the Waterside in Derry on 16 July 2006.
The men were arrested in the Waterside area on Wednesday morning.
They were taken to Strand Road police station for questioning. Another man, Daryl Proctor, is serving a 12-year term for grievous bodily harm.
Mr McCauley and his friends were at a barbecue at Chapel Road when the attack happened.
Mr McCauley was 30 at the time. He has never regained consciousness.
He suffered multiple injuries, including a brain haemorrhage and a fractured skull, when he and two friends were beaten by a gang of youths.
He had two heart attacks on the way to Altnagelvin Hospital. He remains in a coma. It is understood that he will require full-time care for the rest of his life.