Olympics 2012: Chinese gymnasts to have Lisburn training base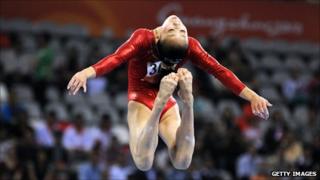 The Chinese artistic gymnastics team is to use Northern Ireland as a training base ahead of the London Olympics.
They will be based at the Salto National Gymnastics Centre in Lisburn which opened in 2007 at a cost of nearly £1.5m.
China's decision to base its gymnasts in Northern Ireland follows that of the Australian boxing team last month.
The Chinese delegation of 30 people will base themselves in Lisburn for 10 days next summer.
Sports Minister Caral Ni Chuilin welcomed the move and said she hoped it would inspire "young people to get involved in sport".
"China is renowned for excellence in gymnastics, topping the medals table at the 2008 Olympics in Beijing with 18 medals," she added.
"Having the best in the world to train locally will raise the profile of the sport and the local facilities."
Ms Ni Chuilin said a "tremendous amount of work" had gone on behind the scenes to promote venues in Northern Ireland to national teams across the world.
She praised the commitment of Sport Northern Ireland and the chief executive of the Salto centre Tony Byrne.
"Following the visit in July by the Chinese coaches Xiong Jingbin and Jin Weiguo, hopes have been high that the national committee would agree for the teams to train here," she said.
"The terrific facilities in Salto; the great relationships developed by Salto's own coach Sun Jie; and the partnership adopted by my department, Lisburn City Council and Sport Northern Ireland have resulted in the Chinese team's decision to locate here."
Chairman of Sport Northern Ireland, Dominic Walsh, said a number of other delegations had viewed facilities in Northern Ireland and talks had been held with "several teams as the various qualifying events continue".
"Announcing China will undoubtedly give further assurance to teams that Northern Ireland is a terrific place to train and prepare," he said.
Lord Coe, chairman of the London Organising Committee of the Olympic and Paralympic Games, said he had visited Salto on a number of occasions and knew the Chinese artistic gymnasts would enjoy "being based at one of the best gymnastics facilities in the UK".
"The team is also assured one of the warmest welcomes as they spend time in Lisburn," he added.
"Congratulations to the sports administrators in Northern Ireland for hosting another team before competition begins at the 2012 Games."