DARD official Gerry Lavery did not 'mislead' PAC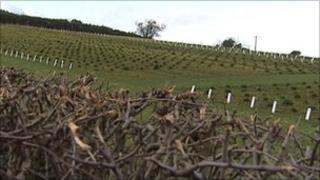 A senior department of agriculture (DARD) official has rejected a suggestion that he gave misleading evidence to the assembly's public accounts committee.
DARD permanent secretary Gerry Lavery was giving evidence to the PAC on Wednesday.
It related to the valuation of land at the Crossnacreevy plant-testing station.
In 2007, the department had made an initial valuation of £200m.
It had hoped to use receipts from the sale of the lands to pay for a slurry tank subsidy scheme.
Paul Frew of the DUP put it to Mr Lavery that he had not informed the committee at a meeting in June 2011 of a letter he received from land and property services (LPS) in August 2007 valuing the lands at £10m.
"There's no case of me misleading the committee or being less than comprehensive in the evidence," Mr Lavery replied.
He said the £10m valuation was not a major factor in the department's decision-making. It did not, he said, have the same "resonance" as a recommendation from the LPS that the department should engage a planning consultant.
PAC chair Paul Maskey of Sinn Fein put it to Mr Lavery that he had been "hiding this letter" from the department of finance.
Mr Lavery, who was DARD senior finance director at the time, said the letter had not been hidden and had been made available to the assembly's agriculture committee in January 2008.
The SDLP's John Dallat described the Crossnacreevy project as "madcap". He wanted to know who was responsible.
Mr Lavery said: "I was happy that I discharged my responsibility and the department discharged its responsibility with regard to this."
Michael Copeland of the UUP referred to Mr Lavery's several mentions of "hope valuations".
"Hope and desperation are very close cousins," Mr Copeland said.
Mr Lavery admitted that the department had failed.
"The mitigation I have is that the exchange of correspondence at the outset referred to our commitment to seek to dispose of the asset and we have delivered on that. We have sought to dispose of the asset. We haven't disposed of it," he said.