Man claims 'pin-like' objects found in Strathroy Dairy milk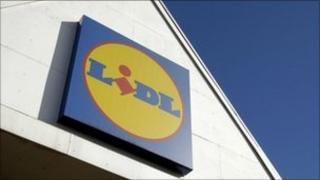 An Omagh dairy is under investigation over claims that 'needles' were found in its milk.
Martin Gibson claims his wife discovered two sharp objects, shaped like pins, in a Strathroy Dairy milk container which she bought in the Lidl store in Strabane.
Strathroy Dairy said it uses technology to ensure that no objects get into milk containers. It will be audited by environmental health officers.
Lidl said it is investigating.
Mr Gibson said the objects were discovered when his wife returned to their home in Artigarvan and opened the container.
"They reminded me of the point for a dart, that's about the size of them, they might have been a bit longer than the points for a set of darts," he said.
"There were two indentations on the backside of them where they must clip into a machine or something.
"There's two flattened areas on them.
"It's a very dangerous object for by the time you had swallowed the milk it would be in your throat."
Strathroy Dairy said it had bought milk from the farmer in question for 11 years and there had never been any quality issues during that time.
Lidl said it was confident that it was an isolated incident, which would be fully investigated.