Could 'Marmite Martin' taste success in race for Aras?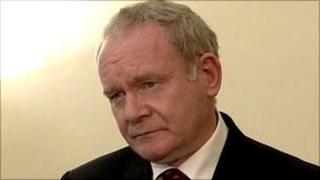 In order to win the Irish presidential election, Sinn Fein's Martin McGuinness is going to have to become more than 'Marmite Martin'.
For most of his political life, Mr McGuinness has been either loved or hated, adored or abhorred, just like Marmite.
If the former IRA leader is to win the 27 October election, he needs to broaden his appeal.
He has started to do this in Northern Ireland with his outreach to unionists, and his remarkable friendship with the Reverend Ian Paisley. Now his focus is south of the border.
He needs to woo more floating voters, or at least gain their second, third or fourth preference votes in the proportional representation election.
Traditionally, Sinn Fein struggles to gain vote-transfers.
As things stand, the man from Londonderry's Bogside is unlikely to become the ninth president of Ireland.
The opinion polls have him trailing behind the Labour Party's Michael D Higgins and the flamboyant independent David Norris.
Deaglan de Breadun, political correspondent of the Irish Times, reckons he will end up in third place when the votes are counted.
"At this stage, he's an outsider," he said.
"But you cannot rule him out. It's only the start of the campaign."
Mr McGuinness will enjoy the four weeks of campaigning across Ireland. He likes meeting people, and has the gift of the gab.
So far, he has been doing better on the ground than on the airwaves. He has had a turbulent time with the Dublin media.
It is not just the forensic questioning of his role in the IRA, but there have also been doubts about how in touch he is with events south of the border.
How many seats has the lower house of the Irish parliament?
Who is the environment minister?
Which team won this year's all-Ireland hurling final?
When asked these three questions on the Dublin radio station Today FM, Mr McGuinness only answered one of them right.
He knew Kilkenny won the hurling, but didn't remember Phil Hogan was the environment minister or that the lower house (the Dail) has 166 seats.
Similar doubts were raised about the southern knowledge of the Sinn Fein president Gerry Adams when he contested the recent general election in Louth. What happened to him? He topped the poll.
Mr McGuinness is modest about his presidential chances.
He said: "I'm going to do my best, and will leave it in the hands of the people.
"I've got a tremendous reception everywhere I've gone and I'm actually looking forward to travelling through all of Ireland's 32 counties. Hopefully I'm going to do well."
He does not sound like a man convinced he is going to win.
Runners and riders
In contrast, David Norris is oozing confidence. At the presidential photo-call for all seven candidates, he was bouncing with energy and optimism.
He is Ireland's best-known gay rights campaigner and in spite of his plummy voice and aristocratic style, he is seen by many as an anti-establishment figure.
However, he is still facing questions about the letter he wrote to the Israeli authorities pleading for clemency for a friend convicted of statutory rape.
It is an issue which could dog his campaign.
With Mr Norris and Mr McGuinness on the defensive with the media, there is a chance for the other candidates to capitalise.
Labour's Michael D Higgins looks best placed to do so. Fine Gael's Gay Mitchell cannot be ruled out. He may not be a charismatic figure but he is the flag-bearer for the most popular party in Ireland.
Independents Mary Davis and Sean Gallagher face an uphill task as does Dana Rosemary Scallon.
She has represented Ireland before, when she won the 1970 Eurovision Song Contest, but she is unlikely to be celebrating when the presidential votes are counted.
Much can change in the next 28 days. Irish elections are seldom straight forward.
The president is entitled to a salary of 325,507 euros (£283,352). There are 3.1m people on the voting register. Turn-out could be an important factor.
It may boil down to which candidate can persuade their supporters to vote on a cold, wet day at the end of October.
Some people think voting in a presidential election is a waste of time as the Irish head of state has very little power. Others see it as a vital chance to shape the image of the nation.
Opinion is sharply divided. Just like Marmite.