Three Derry men accused of having bomb in car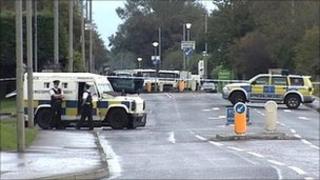 Three Londonderry men have been charged over a bomb found in a car in the city on Monday.
They are charged with possessing an explosive device with intent to endanger life or damage property in the UK or in the Republic of Ireland.
The accused are Eamon Terence Cassidy, 49, of Glenfada Park, Daniel Martin Doyle, 46, of Quarry Street and Eugene Martin McLoone, 54, of Abercorn Road.
The bomb was found after police stopped a car on the Buncrana Road.
All three accused were refused bail.
A detective constable told district judge Barney McElholm the device was found under the front passenger seat, after the car being driven by the Mr McLoone was stopped.
She said Mr Cassidy was a back seat passenger and Mr Doyle a front seat passenger.
The detective said there was evidence that the three defendants were in the car 20 minutes before their arrest.
She said Mr Cassidy told detectives that he found the device while walking along Elagh Road and that it was in the middle of the road.
He said he picked it up because he did not want children to be injured, and wrapped it in his tracksuit top.
Mr Cassidy said he decided to bring the device to a local parochial house to report it to a priest and that as he was walking along Buncrana Road, he was given a lift by the defendant Mr McLoone, she said.
She said that in subsequent searches of other properties, linked to Mr Cassidy, items which might be linked to other activities were found.
The detective constable said that in his interview, Mr McLoone said he did not know that Mr Cassidy had the device when he gave him a lift and if he had known he would not have let him into his car.
She said the defendant Mr Doyle also told the police he was unaware that Mr Cassidy had the device.
The police officer said the police had evidence that the statements made by the three defendants were fictitious and she said investigations into what she called the dissident republican linked incident were continuing.
'Unlikely terrorist'
All three defendants are represented by solicitor Paddy McDermott, who said he was making bail applications for just the defendants Mr McLoone and Mr Doyle.
He said the only witnesses in the case so far were members of the security forces and that Mr McLoone and Mr Doyle had made the case that they were unaware of the explosive device.
He said Mr McLoone was regularly stopped by the police and it would be foolish in the extreme for him to have an improvised explosive device in his car.
He said because of his age and ill health, Mr McLoone was an unlikely terrorist.
In relation to Mr Doyle Mr McDermott said, while he had a relevant previous conviction, it happened almost 20 years ago.
Refusing bail the district judge said the version of events given by the three defendants lacked credibility and he remanded them in custody to appear in court for a video link hearing on 27 October.