Ardoyne man Davey Murphy on life support machine in Spain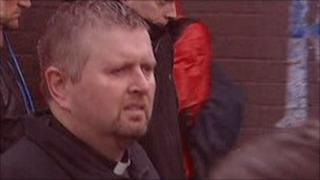 A man from north Belfast is in a critical condition in hospital in Spain.
Davey Murphy from Ardoyne was on holiday with friends, when he had an accident.
It is believed it happened in a swimming pool while he was playing water polo.
He is now on a life support machine. His best friend and girlfriend have flown out to be with him.
The parish priest of Holy Cross Church in Ardoyne Gary Donegan said medical staff at the hospital were doing what they could.
"They were due to turn off the life support machine at 12 o'clock their time," he said.
"They got a call back almost within half an hour saying what was almost unheard of, that there was now activity in the brain and that they were continuing to assist him by using the life support machine."