Derry Bishop condemns Reverend David Latimer graffiti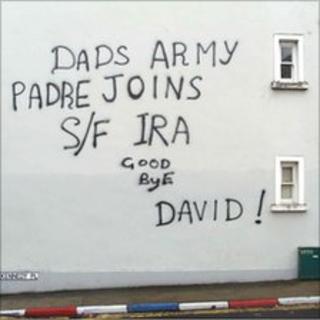 The Church of Ireland Bishop of Derry and Raphoe has condemned graffiti in Londonderry threatening a presbyterian minister.
The graffiti appears to refer to the Reverend David Latimer of First Derry Presbyterian Church.
Earlier in September Mr Latimer was the first presbyterian minister to speak to Sinn Fein's annual conference.
He told the ard fheis that Martin McGuinness was a "great leader of modern times".
The graffiti is painted on a wall in the loyalist Fountain Estate in Derry.
The Derry minister was heavily criticised by some unionist politicians for accepting the invitation to speak at the ard fheis.
The Bishop, the Right Rev Ken Good, condemned those responsible.
"In Northern Ireland we have witnessed and endured too many times when intimidation has been used as an insidious means of dealing with internal disagreement within a community," said the Bishop.
"Cowardly and anonymous words, specifically intended to intimidate and to undermine other people, have done great damage, not only to those directly concerned, but to us all.
"When differences of viewpoint exist within a community, maturity and civility requires of us that we express our disagreement in a ways that are not destructive either to person or property."
Mr Latimer and Mr McGuinness have become friends through their community work in Derry.