Jennifer Cardy murder: Robert Black 'did firm's Northern Ireland runs'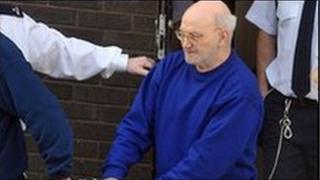 A van driver accused of murdering a County Antrim schoolgirl did his firm's runs to Northern Ireland 99 times out of 100, his trial has heard.
Robert Black denies murdering nine-year-old Jennifer Cardy in August 1981.
The Crown says Black abducted Jennifer after delivering posters to Belfast and Newry, and has been attempting to prove he was in Northern Ireland on the day.
Mr Black, who is 64 and originally from Scotland, worked for London-based Poster Dispatch and Storage (PDS).
Toby Hedworth QC, prosecuting, read a statement that PDS warehouse manager Albert Wells gave to detectives investigating the case.
"Robbie Black did the poster delivery runs to Ireland 99 times out 100," he told officers in 2003.
He said other drivers did not like the ferry times and considered the bonus payment too small. Mr Wells has since died.
Mr Black's lawyer, David Spens QC, told the jury that if he had been able to cross-examine him, he would have suggested his assertion was an exaggeration.
'Regular basis'
Former PDS accountant John Thompson made a similar claim about the Ireland run.
He was not in court, but Mr Hedworth read his statement.
"Undoubtedly Robbie Black did them (Ireland runs) on the most regular basis because no-one else wanted to do them," Mr Thompson told police.
Jennifer vanished as she cycled to a friend's house in Ballinderry on 12 August 1981.
Her body was found six days later floating in a dam beside a roadside lay-by 10 miles (16km) away near the County Down village of Hillsborough. She had been sexually assaulted.
The Crown case against Mr Black also asserts that a proof-of-purchase fuel docket signed by him shows he was in Northern Ireland on the day in question.
But Mr Black's defence team has queried whether human error could have resulted in the wrong date being printed by the manually-operated credit-card machine that issued it.
The owner of the filling station where Mr Black allegedly bought fuel for his delivery van the day after Jennifer went missing, David Johnston, said he could not remember one instance in his 12 years in the business when that happened.
"I can't recall any, no," he said from the witness box.