UVF supergrass case: Robert Stewart's behaviour criticised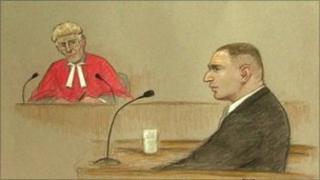 One of the main witnesses at the UVF supergrass trial has been challenged about the way he has behaved in court.
Robert Stewart is giving evidence against 14 men, nine of whom are accused of the murder of Tommy English on Halloween night in 2000.
Arthur Harvey QC, defending Alexander Wood, suggested Stewart's behaviour so far in the trial had been "abnormal"
He accused the witness of showing "a casual indifference to senseless acts of cruelty".
The exchanges between barrister and witness were barbed and combative with Robert Stewart often answering back.
Following one exchange Mr Harvey asked of Stewart: "Is it important for you to have the last word."
"I just like to stick up for myself," came the reply.
Later he was warned by Mr Justice Gillen to forget about the comments and just answer the questions.
Stewart also revealed some of the conditions he faced when being debriefed by detectives.
He was kept in a flat by police officers in an undisclosed region.
Between interview sessions he watched TV, chatted with the officers and even played games with them on a Playstation.
Feud shooting
Mr English, a senior member of the rival loyalist group the UDA, was shot dead in front of his family during a feud between that organisation and the UVF.
Both the UVF (Ulster Volunteer Force) and UDA (Ulster Defence Association) are loyalist paramilitary groups responsible for the murder of hundreds of people during the Troubles.
The trial is the biggest and most expensive to be held in Northern Ireland for many years.
The 14 defendants are being represented by 24 barristers and eight firms of solicitors and the trial is expected to last for 11 weeks.
The term supergrass was first used in Northern Ireland in the 1980s when a number of terrorist suspects were convicted on the evidence of former comrades.