Police and Catholic schools bid to break down barriers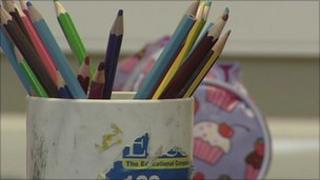 Catholic schools in Northern Ireland are to be offered visits by the police in an attempt to overcome traditional barriers between them.
It is hoped that the initiative will ultimately lead to more Catholic recruits joining the PSNI.
The scheme has been fully supported by Catholic bishops.
The Council for Catholic Maintained Schools (CCMS), bishops and the PSNI have been negotiating for months on how best to roll out the project.
All Catholic schools have received letters encouraging them to reply to letters from the police asking permission to speak to pupils.
Imbalance
Traditionally, particularly during the Troubles, relations between young Catholics and police have been difficult in some areas of Northern Ireland.
The Patten initiative on policing reform was aimed at creating a service acceptable to all sections of the community and addressing religious imbalance by encouraging more Catholics to sign up.
It is understood that just over 100 schools in priority areas such as Fermanagh, Londonderry, north and west Belfast, and some parts of Tyrone will be targeted first.
It is expected there may be resistance to police visits in some areas but the Catholic council has told schools it fully backed a greater police presence in Catholic schools.
CCMS chief executive Jim Clarke described the visits as "a future-focussed initiative".
"Policing is part of the normalisation of society and what we have got to do in Northern Ireland is make the so-called abnormal, normal for us and this initiative is part of that," he said.
Prepare for future
"We are creating the circumstances, and making all of our schools aware of the mutual benefits that policing can bring to education.
"Education is not confined to the school, it is a social activity, it is a community activity. Police are part of that community and they present lots of opportunities for schools to enhance their curriculum, to enhance their pastoral programmes and to prepare young people better for life in the future."
Assistant Chief Constable Will Kerr has been involved in the delicate negotiations.
He said police acknowledged there were some areas and some schools "where the relationships would have been a bit more difficult".
"I think what the CCMS and the PSNI agreed was that we were less interested in why that was the case in the past, we were very interested in making sure that young Catholic schoolchildren have access to this programme so they can make informed decisions about their safety and their responsibilities," Mr Kerr said.
"There is an effective benefit for practical policing as well. The neighbourhood officers who are in the schools delivering the programmes are the same neighbourhood officers who are going to be policing these young people on a Friday and Saturday evening.
"We want to build those relationships in a school environment, so they know each other, they knew the first names, and it helps with policing on a Friday and Saturday night."