Parking cut to improve security at Enniskillen Court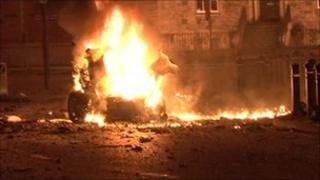 The Northern Ireland Courts Service has said new double yellow lines outside the courthouse in Enniskillen are needed to improve security.
Parking for up to 20 cars has been removed on both sides of the street.
Traders have said it will make it even harder for shoppers to find somewhere to park.
It is thought terrorist attacks such as a 250lb car bomb outside the courthouse in Newry in February 2010 has prompted a review of security.
The Courts Service said it did not comment on any matters relating to security, but the BBC has seen a letter it sent to some of the businesses.
"These measures are urgently required to adequately protect the court estate and will be reviewed if there is any significant change in the current threat level," it said.
Business owner Thomas McKeon of KM Laundry said he wants to know how double yellow lines will prevent a terrorist attack.
"I think if you were going to plant a bomb here, two yellow lines isn't going to stop you," he added.
Mr McKeon said he relied on customers being able to park nearby to drop off or collect their laundry and he fears the parking restrictions could put him out of business.
"I can't understand what they are doing putting two yellow lines up the street to stop the people coming into the town, trying to park, trying to do a little bit of shopping, helping the local economy," he added.
"We have seen a dramatic decrease in people coming in already and people are coming in to say it is too much hassle to get in here."
Sandra McMullan of Dowlers Homestore said the double yellow lines undermined efforts to encourage people to shop in their local high street.
"They are robbing us of probably 20 parking spaces here," she added.
"On a Saturday the court doesn't meet, several other days the court doesn't meet and here we are with absolutely no use that can be made of these spaces.
"They say it is a security thing. We had 30 years of Troubles. We didn't seem to need them then, I can't see why we do know."
Some motorists have been ignoring the new restrictions but they are taking a chance of receiving a fine of up to £60.
In the last three years 25,000 parking tickets have been issued in Enniskillen.