McGuinness says his 'heart goes out' to dead soldiers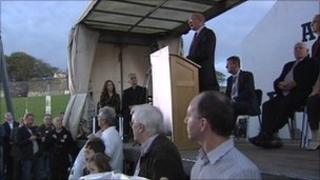 Martin McGuinness has told a rally in Londonderry that his "heart goes out" to the relatives of British soldiers and RUC officers who died during the Troubles.
He was addressing a crowd at Free Derry Corner ahead of his bid to become President of Ireland.
Mr McGuinness walked from his home in the Bogside to the event.
He was joined by civil rights activists, Bloody Sunday relatives and soccer and GAA players.
In his address the Presidential candidate said he acknowledged all those who had lost family members during the Troubles.
"I am very conscious that in this crowd there are many people who lost loved ones as a result of the conflict and still, even after all those years, my heart goes out to all of them.
Understanding
"I am also conscious of many British soldiers, members of the RUC, members of the UDR and my heart goes out to all their relatives."
Mr McGuinness said he "valued" his relationship with former DUP leader Ian Paisley and the current First Minister Peter Robinson.
"I also value my relationships with all those unionists who recognised that we could not go on living the way we were," he added.
The First Derry Presbyterian Minister, the Reverend David Latimer, also addressed the rally.
Earlier in September Mr Latimer made history by becoming the first Presbyterian minister to address Sinn Fein's annual conference.
He told the rally in Derry on Thursday that he had prayed with Martin McGuinness last weekend and hoped he would have "strength, wisdom and understanding".
Graffiti threatening Mr Latimer appeared in the Fountain, a loyalist enclave in the city, earlier on Thursday.