Derry priest at McGuinness rally does not 'endorse' him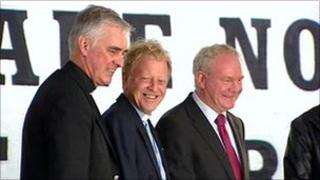 A Londonderry priest said his appearing at a Sinn Fein rally does not endorse the candidacy of Martin McGuinness for the Irish presidential election.
Father Michael Canny said he was at Free Derry Corner on Thursday night in a "personal capacity".
Mr McGuinness told the crowd his "heart goes out" to the relatives of British soldiers and RUC officers who died during the Troubles.
The priest said Mr McGuinness still has to answer questions about his IRA past.
Since announcing his intention to run, the deputy first minister has repeatedly been asked about his involvement in the IRA in Derry.
He said he left the IRA in 1974 but Fr Canny said he could not confirm or deny that.
"I have come to this city during the Hunger Strikes in 1981," the priest said.
"I have no reason to believe or not to believe him so I cannot say whether it's true or false. If it's true it's true, if it's false it's false, I do not know."
But Fr Canny said that throughout the election campaign, Mr McGuinness could expect awkward questions about his time as a self-confessed terrorist.
'Son of the city'
"I have no problems about people questioning Martin about anything on this campaign and any part of his life should be held up to scrutiny and I think that Martin is the only person who can answer those questions," he said.
Fr Canny said he attended the rally to support a "son of the city" and not to encourage people to vote for him.
"I was there in the capacity to wish him well as he embarked on this campaign to become president of Ireland. I am not asking anyone to vote for any party or individual.
"It may appear as an endorsement but there was certainly no intention to say anything other than 'I am there to wish him well' on this leg of his journey."
The Reverend David Latimer, who was also present, told BBC Radio Ulster he had attended "because I received an invitation to join the platform party".
"Essentially, that invitation would have come to me because of the developing friendship that is existing between Martin McGuinness and myself. That friendship started nearly six years ago now," he said.
Mr Latimer added that he saw it as part of his ministry to reach out to his neighbours.
He said a man who had been "affected as severely as anyone by the Troubles," told him that "if someone had done 50 years ago what I had done, his relative would still be living".
"Other families who had young children are saying to me, 'we don't want our children to live through what we have lived through'.
"'Keep doing what you are doing, because that is the way forward'."
However East Londonderry MP Gregory Campbell said Sinn Fein had used the rally to garner publicity
He said Mr Latimer was right that people should engage in discussions, but added: "The problem is not going to the Bogside, the problem is what you say when you go there as a unionist or as a Protestant.
"I had a constituent with me this week whose close relative was murdered many years ago during the Troubles. She wrote to Martin McGuinness and she furnished me with a copy of her letter," Mr Campbell said.
"She got no response whatever from Martin McGuinness.
"She supplied a copy to a third party that she hoped would pass the letter on. She still go no response. Now she has passed a copy of the letter to me to ensure that Martin McGuinness gets it.
"This is a two-way process, people can't decline to deal with something that they don't like and then only deal with the material that they think may be supportive and might be good and might be advantageous to a future political career potentially.
Understanding
Mr McGuinness walked from his home in the Bogside to Thursday night's event. He was joined by civil rights activists, Bloody Sunday relatives and soccer and GAA players.
In his address the presidential candidate said he acknowledged all those who had lost family members during the Troubles.
"I am very conscious that in this crowd there are many people who lost loved ones as a result of the conflict and still, even after all those years, my heart goes out to all of them," the presidential candidate said.
"I am also conscious of many British soldiers, members of the RUC, members of the UDR and my heart goes out to all their relatives."
Mr McGuinness said he "valued" his relationship with former DUP leader Ian Paisley and the current First Minister Peter Robinson.
"I also value my relationships with all those unionists who recognised that we could not go on living the way we were," he added.
The First Derry Presbyterian minister, the Reverend David Latimer, also addressed the rally.
Earlier in September, Mr Latimer made history by becoming the first Presbyterian minister to address Sinn Fein's annual conference.
He told the rally in Derry on Thursday that he had prayed with Martin McGuinness last weekend and hoped he would have "strength, wisdom and understanding".
Graffiti threatening Mr Latimer appeared in the Fountain, a loyalist enclave in the city, earlier on Thursday.
Mr McGuinness is now embarking on an election campaign across the Republic.