Belfast soldier's pride at military honour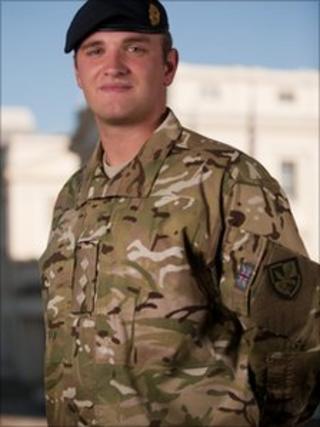 A soldier from Belfast has spoken of his pride at being recognised for gallantry after he helped save the life of a colleague in Afghanistan.
Captain Michael Lowry from Belfast, who serves with the Royal Logistics Corp, is being mentioned in dispatches.
He is one of 140 members of the Army to be listed for honours on Friday.
A number of soldiers from the Royal Irish Regiment and Irish Guards are to receive military honours for gallantry displayed during a six-month tour of duty between October 2010 and April of this year.
Capt Lowry helped save Pte Alex Stringer from bleeding to death after he was caught in the blast of an improvised explosive device (IED) in January.
Pte Stringer was engulfed in flames and lost his legs and an arm in the explosion.
Capt Lowry said he was "very proud" to be mentioned in dispatches, and recalled his feelings as the incident happened.
"For the first few seconds, confusion reigned," he said.
"There was dust falling and then gunfire started coming in and rocket-propelled grenades started whizzing past our heads.
"To be truthfully honest it is nothing like the training.
"You train for it back here in the UK, however when it happened it was just a moment of panic to start with, you don't expect it to happen at all.
"When it does happen you just hope you do what it takes to keep him alive.
"It wasn't just me that was there, there were many other people and many other parts involved in saving him. This is recognition for them as well."
Capt Lowry has been praised for completing 23 high-risk searches for roadside IEDs and is now training to dispose of such devices as an ammunition technical officer.