UVF supergrass case: Stewart to testify less on psychiatrist's advice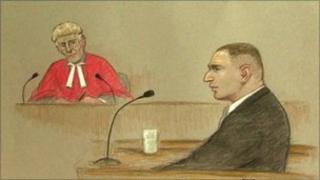 A consultant psychiatrist has advised that UVF supergrass Robert Stewart should give evidence in court for fewer hours per day.
Stewart is giving evidence against 14 men, nine of whom are accused of the murder of Tommy English 11 years ago.
He was ready to give evidence on Friday but, on the psychiatrist's advice, was not called.
The judge asked the prosecution to find other business for the court while Stewart is not testifying.
Dr Ian Bownes examined Stewart and recommended that the witness not continue but be allowed to come back on Monday morning.
The doctor also recommended that Stewart only give evidence four days a week, with 20 minute breaks during his testimony.
Stewart has also asked to see his solicitor.
Prosecution Counsel Gordon Kerr QC told the court that the former UVF member, who has signed a deal with the Public Prosecution Service to give evidence in the trial, "wants advice about his obligations and rights as witness".
This prompted around half an hour of legal argument in court, as Mr Justice Gillen considered the best way to ensure that Stewart's legal rights were preserved, without him discussing his evidence with anyone.
Such discussion whilst a witness is still giving evidence during a trial could be considered contempt of court.
The judge concluded he has no power to stop the witness speaking to anyone, and felt sure that as "an officer of the Supreme Court" any solicitor would know the principles and rules he or she must follow.
Stewart will be assessed by the psychiatrist over the weekend and again on Monday morning, before he returns to the witness stand.
Feud shooting
Mr English, a senior member of the rival loyalist group the UDA, was shot dead in front of his family during a feud between that organisation and the UVF.
Both the UVF (Ulster Volunteer Force) and UDA (Ulster Defence Association) are loyalist paramilitary groups responsible for the murder of hundreds of people during the Troubles.
The trial is the biggest and most expensive to be held in Northern Ireland for many years.
The 14 defendants are being represented by 24 barristers and eight firms of solicitors and the trial is expected to last for 11 weeks.
The term supergrass was first used in Northern Ireland in the 1980s when a number of terrorist suspects were convicted on the evidence of fellow paramilitaries.