A rare good news week for Northern Ireland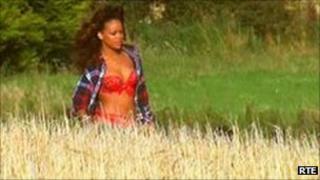 In public meetings I am often asked why the media concentrates on "bad news".
I tend to respond that news, just like gossip, covers what is novel and different.
Every day in Northern Ireland, as elsewhere, thousands of people eat breakfast, drop their children off at school or go to work, study or otherwise lead honest productive lives.
This is undeniably important, but it's hard to imagine it as a lead story.
I often drop in a note of caution that viewers would quickly regret it if the news followed the old Soviet-style route in which conflict and dissent is airbrushed away, and the top story is always the latest record production figures at the local tractor factory.
The other danger in trumpeting "good news" is that you have to be certain all your audience concur that a development is positive.
The classic mistake is to trumpet a decrease in interest rates as "good news" - which may be true for those paying off mortgages, but not for people dependent on savings.
That said, TV news thrives on images of wars, conflict and riots, which is why Northern Ireland has attracted so much attention over the decades.
So it's only fair that we should reflect at the end of this week on a series of events which it's hard to imagine happening back in the troubles.
First, Rihanna.
We've all enjoyed debating the rights and wrongs of this story - did she set a poor example for youngsters by smoking on her video set, did she show disrespect to her audience by keeping them waiting at the Odyssey, and most infamously of all, was a north Down farmer right to tell her to put her clothes back on whilst filming in his barley field.
But let's not lose sight that Northern Ireland has played host to an international pop star, not just playing concerts, but shooting a video, and bouncing on a north Belfast trampoline. In the old Northern Ireland that would have been quite unbelievable.
'Frustrated billy goats'
Any story which provokes comments from two veteran unionist aldermen, not on the proposed shake up of our 26 local councils, but on the physical attributes of Rihanna, gets my vote.
One alderman, the north Down farmer Alan Graham, is entitled to his view that young women should not have to take their clothes off to entertain "frustrated billy goats".
The other, Alderman Arnold Hatch, is equally entitled to express his admiration for the singer, who travelled over on the same flight as him across the Irish Sea.
Good News story number two - Lisburn attracting China's world beating gymnastics team for pre-Olympics training.
Stormont's track record on the Olympics (excuse the pun) hasn't been glittering, given the debacle over the failure to proceed with the Maze stadium, and the consequent loss of any football matches.
So let's be thankful for the staff at the state-of-the-art Salto gym and the genuine Chinese restaurant which helped lure the gymnasts to Lisburn.
In third place - the chancellor reducing Air Passenger Duty on Northern Ireland's only air link to the USA.
Yes, environmentalists argue this is a retrograde step at a time when we should be increasing "green taxes" and cutting down on burning kerosene.
Other airline operators claim the initiative should be extended to other regions and routes.
But if this week's story had been the axing of the Continental flight then there would have been inevitably more doom and gloom about the impact on future business links.
Fourth, hundreds of new jobs due to be created by PriceWaterhouseCoopers and Capita. Any opportunities like this have to be welcomed given the harsh global economic climate.
Lastly, the announcement of an inquiry into allegations of abuse stretching back decades in children's homes and other institutions.
Given the horrific nature of some of the treatment meted out to children, this is not the sort of development you would normally see in a list of "good news" stories.
But having spent time with the survivors and victims up at Stormont last night, it was impossible not to be touched by their sense of elation at having achieved an inquiry with full legal powers after years of campaigning for justice.
We shall now have to keep a watch on the creation of the "acknowledgment forum" and the passage of the relevant legislation to check whether the victims believe they are getting what they hoped for.
So from Rihanna to China, by way of jobs, flights and an inquiry, it's been quite a week. Not only that but the sun came out too, in Northern Ireland in late September.
If that's not "good news", I don't know what is.