La Salle College pupils welcome police visits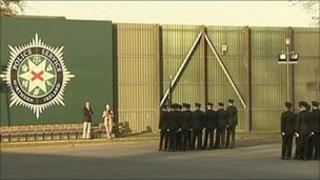 Catholic bishops and the police are collaborating on a new initiative to overcome resistance to officers visiting Catholic schools.
The first schools to be targeted will be in areas where police have not been welcome in the past.
One such area is west Belfast and La Salle College will be one of the schools police will be visiting.
"This area at one time would not have been welcoming to the PSNI," school principal Paul Barry told Radio Ulster.
"But we have moved on and we all have to take our own responsibility to move the community forward to better times."
He said police commanders had asked him how to improve relationships with young people in the area.
"I've always advised them to look for opportunities to engage with the young people in activities other than normal police activities," he said.
"This has been happening for a number of years - the police have been coming to give various talks on safety for the students of the college.
"The students have been very receptive to the messages being brought to them and very appreciative of them."
In February, a number of boys at the school did a week's work experience with the police.
"It was the best work experience I could have asked for," one of them said.
"It was something I wanted to do - I went to the careers advisor in school and they set us up with it and we got a crowd of us to go and do it. It would be something I'd seriously consider doing in the future."
'Fabulous idea'
Another pupil told Radio Ulster he would strongly consider joining the police.
"I'd have no problem with it whatsoever," he said. "I don't see why people shouldn't, it's not a big problem nowadays, people seem to accept the police for what they're doing."
Those views were echoed by parents of pupils at the school.
One mother said she thought the police visits were a "fabulous" idea.
"It's about time people in the local community here supported the likes of the police, the fire brigade, ambulance, everybody," she said.
"There's so much recruitment from Catholics now into the police service so it can only be good."
The initiative is the result of negotiations between the PSNI, the Council for Catholic Maintained Schools (CCMS) and the Catholic bishops.
Bishop of Down and Connor Donal McKeown said he wanted it to become normal for the police to be in every school in Northern Ireland.
He said while police had visited Catholic schools for years "this is much more and agreement by the CCMS council and the police about how it will be done, what sort of regularity would be involved so that every school didn't have to invent its own answer when approached by a local PSNI officer".
The bishop said he hoped it would lead to a police service which represented all sectors of society.
"The purpose of this wasn't just to get more people from Catholic schools to join the PSNI, but really in the service of the big picture of ensuring that we have a truly representative police service in Northern Ireland.
"In other words the aim was not just to get ethnic Catholics for want of a better word, but to get an adequate representation of people who consider themselves to be nationalists," he said.
"I also made the point that it was very important to ensure that those who join the police service are not primarily from just middle class communities, but that the disengaged communities of working class or benefit class among nationalist and unionists are reached out to as well."