IRA ambush of officers 'planned for more than three hours'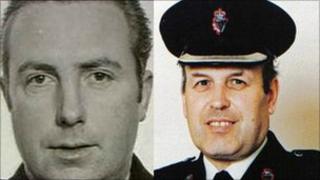 A former Army officer has told a tribunal the IRA could not have mounted an ambush in less than three hours of the type that killed two RUC officers.
Chief Superintendent Harry Breen and Superintendent Bob Buchanan were shot dead in south Armagh in March 1989.
The Smithwick Tribunal is investigating allegations of Irish police collusion in the murders.
Former Brigadier Ian Liles described the south Armagh unit of the IRA as "professional and risk averse".
"The IRA would have cancelled operations if there was any doubt that their escape was not guaranteed," said Mr Lilies, who served a number of tours of duty in Northern Ireland.
"If they perceived the risk was too great they would come back another day, time was on their side."
When asked how long it would have taken the IRA to carry out such an attack, Mr Liles said a timeframe of less than three hours would have been impossible.
"A telephone tip-off after the officers had arrived at Dundalk Garda Station would not have given sufficient time to mount such an operation, ideally you are looking at between five to eight hours."
'Experienced unit'
He also dismissed a previous suggestion to the tribunal that the IRA was planning to kidnap the senior RUC officers.
"The operation was almost certainly a kill operation" he said.
The tribunal also heard from former Brigadier Mike Smith, who also described the south Armagh unit of the IRA in the late 1980s as "the most capable and experienced units of the terrorist group".
"The IRA was capable of large scale and ambitious operations but it was very much risk averse," said Mr Smith.
"The campaign had been ongoing for close to 30 years and PIRA had suffered reverses and were anxious to avoid losses and reduce the risk to themselves."
The IRA ambush occurred at a "blind spot" on the Edenappa Road.
Mr Smith said the chances of the attack happening at a "random location is highly unlikely".
Previous evidence from a witness who heard the IRA gang communicating by walkie talkies before the RUC men arrived was read out.
"That is very interesting collateral evidence of some form of communication," said Mr Smith.
"Someone had given the road party advance warning that the RUC men were about to appear."
The two officers - the most senior to be murdered during the Troubles - were killed shortly after a meeting at Dundalk Garda station.