Limavady United's loan offer for Carlos Tevez withdrawn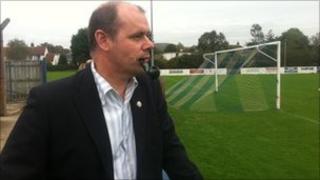 There was no fairytale ending to Limavady United's headline-hitting week as they lost at home, and their Carlos Tevez bid was ignored.
The Northern Ireland club made news bulletins across the football world with their cheeky request to Manchester City to borrow the out-of-favour Argentinian striker.
With Tevez refusing to play as a substitute for City against Bayern Munich in midweek, lowly Limavady offered him something all his millions could not buy in Manchester - regular first-team football.
The Limavady fans had some fun printing Tevez posters and singing 'Don't Cry for Me Argentina' before Saturday's home match against local rivals Institute in the Irish League Championship.
However, there was no Latin American dancing in the streets afterwards as Limavady lost 2-0.
If ever a team needed an experienced striker, it was Limavady.
The club's vice-chairman David Brewster waited by his fax machine all week for a response from City to his loan bid, but to no avail.
The club has now reluctantly accepted defeat and given up on the hope of Tevez wearing the Limavady blue shirt.
Mr Brewster said:"Clearly our performance against Institute showed that all the speculation surrounding the possible arrival of Carlos unsettled the first-team squad.
"No player is bigger than the club, and we have unilaterally withdrawn our offer."
The tongue-in-cheek offer to City increased Limavady's profile as never before.
The impact on the airwaves was reflected on the ground as the attendance at Saturday's game was much higher than usual.
It was, in fact, double the size of their average gate. The total attendance was 250.