Assembly risks credibility if it fails to deliver, says Paterson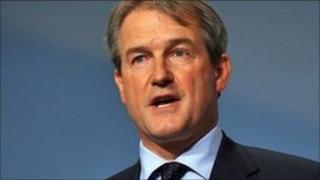 The Secretary of State is expected to tell Conservative activists that the Northern Ireland Assembly risks losing public credibility if it does not deliver over the next four years.
Owen Paterson will speak at the Conservative Party conference in Manchester later.
He is also expected to tell delegates it is time to move beyond the politics of the peace process.
Mr Paterson said the Assembly will come under scrutiny over what it delivers.
Delegates are also expected to be told that the Government wants to see the Assembly evolve into a more normal system, with a government and opposition consistent with power sharing.
He is also due to discuss the issue of a shared future and the cost of division in Northern Ireland and will tell activists that with political stability and a full four year mandate the Executive must take this issue on.
Mr Paterson is also expected to announce a joint ministerial group which will examine the costs of giving Stormont the power to vary the rate of corporation tax.
He said it is essential that details are pinned down before the government decides how to proceed further.