DEL lurching from crisis to crisis, says top academic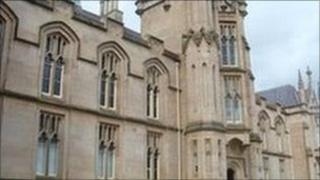 A leading academic at the University of Ulster's Magee campus has accused the Department of Employment and Learning of lurching from crisis to crisis over student places.
Professor Deirdre Heenan said the huge demand for places would mean students will lose out.
"We don't think there is enough long-term strategic planning," she said.
Employment Minister Stephen Farry said extra students places secured for next year had to be shared.
Ms Heenan said she believed the department was working on an "evidence based process".
"What that translates to is we (the department) will lurch from crisis to crisis, when we have the demand we will then scurry around and try to find the places," she added.
"We know we are facing increased pressures, we know there is going to be increased demand so why can we not plan ahead and prioritise for these places."
The employment minister responded and said demand everywhere meant the interests of the different higher education providers had to be respected.
"The main rationale for securing the additional resources that we did get in terms of negotiations within the executive, was to ensure that we could manage that across the board," Mr Farry said.
"This is very much an initial investment but we do know that there is going to be increased demand in Northern Ireland, but my Executive colleagues want us to see that the evidence of what that is going to be in real terms."
He said he had the option of going back to bid for additional resources if he had a strong case to back it up.