Group to examine corporation tax cost for Northern Ireland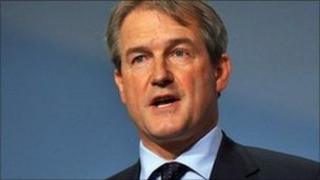 Government ministers from Stormont and London are to jointly examine the costs of giving the Executive the power to vary the rate of corporation tax.
Secretary of State Owen Paterson said the group would examine the costs, the administrative changes and the potential legislative vehicle for transferring these powers to Stormont.
The group will include Mr Paterson and the Exchequer Secretary David Gauke.
A number of Executive ministers will also feature.
These will include First Minister Peter Robinson and acting Deputy First Minister John O'Dowd.
Enterprise Minister Arlene Foster and Finance Minister Sammy Wilson are also expected to be included.
Mr Paterson was speaking at the Conservative party conference in Manchester.
He said the group would detail exactly what the cost would be.
He told party activists that it was "essential that we pin down these details before the Government decides whether or not to proceed further".
Mr Paterson said that over the next four years the Assembly would "come under intense public scrutiny over what it actually delivers".
He said if it did not deliver it risked "losing public credibility".
The secretary of state also said he did not believe anyone could be a full-time MP and Assembly member.
"I will give you this commitment today, by agreement if possible but by law if necessary, we will end double jobbing," he added.
Justice Minister David Ford welcomed the establishment of a group to examine corporation tax.
"The establishment of this working group is a further step closer to the decision to devolve the power to vary corporation tax," he said.
"The fact that it is a joint working group with ministers from Westminster just shows how seriously the government are taking our calls for the Northern Ireland Assembly to be given these powers."