Four places in Northern Ireland hoping for Purple Flag status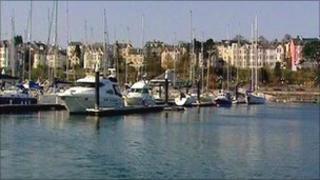 You will have heard of Blue Flags representing the quality of beaches.
But there is also a Purple Flag scheme recognising what towns or cities are like on an evening.
It has been running in England for some time, but now for the first time, four places in Northern Ireland are vying for the distinction.
Covent Garden, Leicester Square - yes, they both have one - the Purple Flag.
Those worthy of the standard are supposed to offer a better night out to visitors and now Bangor wants to get in on the act.
Its night life has perhaps not always had the best reputation. But Bangor town centre manager Stephen Dunlop thinks the town now deserves the accreditation.
"Bangor has put a lot of effort in over the past ten years in reducing the number of assaults and the anti-social behaviour that would occur in the evening economy on a Friday and Saturday night," he said.
"This accreditation system would acknowledge that good work. But would also put us on a power with best practise in other parts of the UK."
In ten years Bangor has gone from three to twenty-two restaurants. They have now caught up on the same number of pubs.
Examiners have also spent the summer accessing another three locations - Enniskillen, Londonderry and Belfast's cathedral quarter.
'Safe, welcoming, vibrant'
Jayne O'Neile is with the tourist board and says other places in the UK have seen the benefits.
"Typically a destination with a Purple Flag would be appealing, it would be safe, welcoming, vibrant and in a well managed location," she said.
"This really helps positive experiences for consumers, be it local visitors or residents alike. It really is the benchmark for good night time destinations."
She said the timing was perfect for a Purple Flag. In the next two years, Northern Ireland will have the Titanic and Causeway visitors' centre, the world police and fire games and Derry City of Culture.
Candidates are due to find out on Monday if they have been successful, although it is thought there will not be an official announcement until some sort of prestigious purple flag prize ceremony has taken place.