Miscarriage care at Ulster 'disgusting' says mother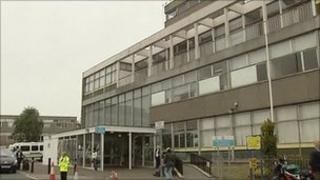 A mother-of-one has described the care she received at the Ulster Hospital following a miscarriage as "absolutely disgusting".
Stacy Shaw, 27, said she was told she could have a procedure known as a Dilation and Curettage (D&C) at the Ulster.
However, she claimed the hospital later said it could not carry out the D&C.
"I was passed from pillar to post. Nobody was there to answer my questions," she added.
Ms Shaw alleged that she initially told there would be a delay of a few days if she had the procedure at the Ulster, where she had been having her ante-natal care.
She said she chose to wait and in the meantime turned down two appointments at the Lagan Valley Hospital in Lisburn. She was eventually told that the Ulster could not do the procedure.
Ms Shaw said she made between 15-20 calls to GPs and hospital staff in a bid to find out more information.
"I wasn't given any time or explanation. I wasn't given a helpline number, I was given a leaflet to read. There was no website on it, there was no helpline on it," she said.
"They didn't tell me where I could go and basically I had to chase up an appointment."
In response to Ms Shaw's comments, the South Eastern Trust said the Ulster Hospital did not carry out day gynaecology procedures.
"Ms Shaw was offered two different slots to have her procedure carried out within days (at Lagan Valley) but she refused both of these.
"Ms Shaw would not have been offered this procedure at the Ulster Hospital.
"At this sad time it is acknowledged that there is a time of bereavement and loss. The South Eastern Trust is the only Trust in Northern Ireland to have a full time bereavement midwife and a full programme of support and counselling is offered at the appropriate time.
"The trust would ask Ms Shaw if she is unhappy with the care she has received to contact the trust's complaints department where the matter can be investigated and responded to fully."