Janet Devlin bound for X Factor success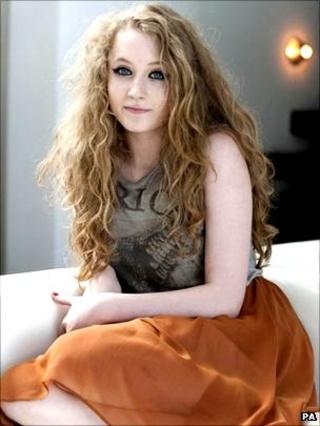 Gary Barlow said her voice gave him "tingles", while Louis Walsh tipped her as "the one to beat".
So it came as no surprise when Tyrone singer Janet Devlin made it through to the live finals of the X Factor on Sunday night.
Millions of viewers watched the 16-year-old break down in tears as her mentor Kelly Rowland told her she had made it through to the next stage of the TV talent show.
"You bring something so special to this competition with your innocence and how vulnerable you are," said Kelly.
"I want to take you through."
Janet travelled to Kelly's home in Miami with seven other X Factor hopefuls for the judges' houses stage of the competition.
And after a note-perfect performance of Christina Aguilera's Beautiful, it was clear the shy schoolgirl had made quite the impression on the Destiny's Child star.
She told the teenager: "When I saw you the first time the room was still. I don't want you to miss out on anything, you deserve it all."
Confidence
As well as singing in front of Kelly Rowland, Janet was also set the task of impressing guest judge Jennifer Hudson.
Kelly drafted in the Oscar-winning actress to help her choose which four of her eight acts to bring to the live shows.
Both of the women voiced concerns about Janet's lack of confidence, but agreed that she deserved a chance to win the competition.
The girl from Gortin has now vowed to overcome her shyness and wow the X Factor audience.
"I just want to grow as a person and I don't think I can do that where I'm from," she said.
"Every little step is so huge for me. People here are really confident. Every time I get a little bit further, although it's not a lot of confidence, it gets me by a little bit more."
Janet sailed through along with three other girls - Misha Bryan, 19, Sophie Habibas, 19, and 16-year-old Amelia Lily.
They'll take on 12 other acts from the boys, groups and over-25 categories when the live shows start this weekend.