Pensioner left 'black and blue' in Shankill Road attack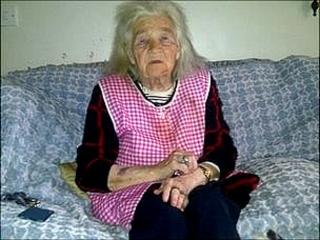 An 84-year-old woman said she was "left black and blue" after an attack at her home in Belfast.
Two men broke into Josie Hamilton's house on Agnes Street near the Shankill Road on Friday night.
They assaulted the pensioner and attempted to steal a number of items from her home.
"They pushed me up against the wall and crushed my face. My whole nerves gave up on me and I collapsed on the ground," said Ms Hamilton.
She was transferred to hospital for treatment.
"My shoulder is still sore and I'm a wee bit nervous still. I am shaking like a leaf. I hope I don't take a turn in the night but the Mater Hospital isn't too far away," she told the BBC's Nolan Show.
Ms Hamilton described those behind the attack as "scum".
"They are up to no good. Any decent fella would not have done that," she added.
A police spokesman said they were investigating the attack and appealed to anyone with information to come forward.