Northern Ireland corporation tax power 'in the balance'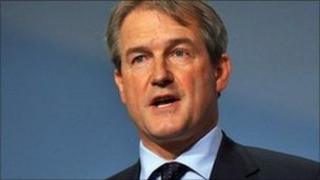 The Secretary of State has said that giving the assembly powers to vary corporation tax is in the balance.
Owen Paterson told the Tory conference on Sunday that he was setting up a joint-ministerial group to examine a number of issues.
He said that group would examine the cost, the administrative charges and a potential legislative vehicle.
He said: "It is absolutely right as a responsible government that we should get into the nitty-gritty."
The transfer of the power to Stormont would mean a corresponding cut in the block grant, the money Northern Ireland gets every year from Westminster.
Mr Paterson said that a public consultation on the issue had raised "considerable disagreement" on how much the block grant should be reduced.
He said on Monday: "As of this morning, as of last year, as of during the consultation process, I would not tell you which way this is going to go."
'Not as bullish'
Northern Ireland Finance Minister Sammy Wilson has already said that even if transfer of powers is given the go-ahead, it is unlikely to happen during this assembly term.
This has frustrated some in the business community, who have argued that the Republic of Ireland's rate of 12.5% compared to 26% in the UK is stifling inward investment in Northern Ireland.
The joint group will feature ministers from Westminster as well as from Stormont including the First Minister, Peter Robinson, the Deputy First Minister John O'Dowd, Mr Wilson and Enterprise Minister Arlene Foster.
BBC Northern Ireland political reporter Stephen Walker said the group would be expected to work on the nuts and bolts of devolving the power, including coming up with a final cost figure.
"Money is the key to all this and particularly the cost to the block grant and Owen Paterson's argument is that we've got to pin these figures down," our reporter said.
But he added that he detected a new note of caution in the Secretary of State's attitude.
"I did not think Owen Paterson was as bullish as normal. This has been his big thing, this is the thing he has championed. I noticed a slight change.
"It seems all options are being considered."