Irish stick-fighting popularity grows but not in Ireland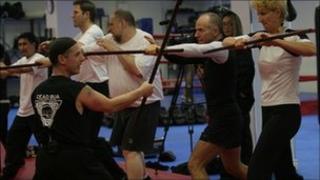 Despite originating in Ireland, Irish stick-fighting has almost completely died out in this country.
The martial art, has however, grown in popularity in other parts of the world. So much so that there are world championships being held on 25 and 26 November in Toronto, Canada.
Using traditional blackthorn walking sticks as weapons, the sport combines the principles of fist-fighting and the motions of a stick.
Glen Doyle is a Canadian master of Irish stick-fighting after learning the martial art from his father.
He said his ancestors left Wexford for Newfoundland in the early 1800s and the fighting style was passed down from one generation to the next.
His family style evolved from the commonly used one-handed method.
"Passed on from generation to generation, this two-handed style was only taught to individuals with the surname Doyle," he said.
Glen has been teaching the Irish stick-fighting method since 1998 when his father gave him permission to share it outside the family.
This method is now being taught in Canada, United States, Germany, Austria, Greece, and Mexico.
"I learned the Irish stick techniques I teach from my father, the late Gregory Doyle, who learned from my granddad. My dad started teaching me back in 1972," he added.
"Irish stick-fighting styles could get their identity from family surnames, or towns where the fighters lived, or even the counties."
Glen is one of the organisers of the world championships which will have competitors from Germany, Canada, and the United States.
"Since 1990s, the interest in Irish stick-fighting has increased greatly and the number of those practicing grows everyday.
"There are even other groups in North America that have pieced together Irish stick techniques from some old manuals and books to re-create some other systems. It's getting very popular."
'A joke'
Robert Belton is an instructor at Wexford Irish Stick Fighting Club. With a total of four members meeting only once a month, he said that any plans for a revival of the martial art have not been taken seriously in Ireland.
"To be honest, most people think it is a joke. They associate it with having a scrap when you're drunk," he said.
"We do have a rich tradition of martial arts in Ireland going back hundreds of years but most of it has been lost."
Although Robert has no family history like Glen Doyle, he has experience teaching martial arts and "would like to see it revived again".
Liam Kealy from the Olde Shillelagh Stick Makers in County Wicklow said he supplies "a good few sticks over to Canada, America and Australia".
"I was approached by people wanting to set up clubs in Waterford and Dublin," he said.
Glen said there are two men hoping to teach it in Ireland in the future and he plans a seminar tour in UK and Ireland in 2012 to advertise the sport.
Although if the Wexford club's experience is anything to go by, he may have to work harder to convince those in the country where it came from.