New Commissioner for Older People is Claire Keatinge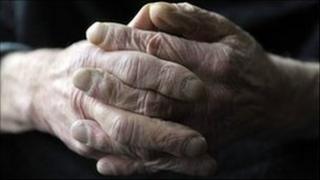 A former director of the Alzheimer's Society in Northern Ireland has been appointed the first Commissioner for Older People.
Claire Keatinge will take up her new role on 14 November.
First Minister Peter Robinson said the appointment of Ms Keatinge was a "groundbreaking development".
He said the post would fulfil the executive's commitment to "deliver a strong independent voice for older people".
He added that Wales was the only other part of Europe to have appointed someone to a similar role.
Ms Keatinge's appointment will be for a term of four years and she will receive an annual salary of £60,000.
"As commissioner, Claire will play a key role in challenging discrimination against older people, promoting positive attitudes towards older people and encouraging their participation in public life," Mr Robinson said.
"I wish her every success in the post."
Acting Deputy First Minister John O'Dowd said: "This is a great day for our older citizens who now have a strong voice to champion causes which affect their everyday lives.
"The creation of this post is another example of a local assembly responding to the needs of local people.
"I congratulate Claire on her appointment. She will be a dedicated focal point for all our older citizens and will have the statutory power and authority to challenge and take action on their behalf."