Liam Adams to be extradited on sexual assault charges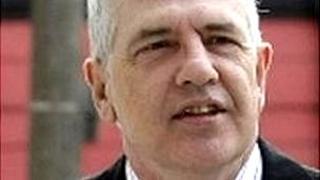 The brother of Sinn Fein president Gerry Adams will be extradited to Northern Ireland to face 18 charges of sexually assaulting his daughter, a Dublin court has ruled.
Liam Adams, 56, has denied abusing Aine Tyrell, who has waived her right to anonymity.
But the court ruled that he should be transferred to NI from the Irish Republic where he had been living.
The formal order to extradite Mr Adams will not be made until Thursday.
Liam Adams is accused of rape, indecent assault and gross indecency at various addresses in Belfast between March 1977 and March 1983, when his daughter was aged between four and 10.
No emotion
Mr Adams, who was supported in court by another daughter Claire Smith and her friend, showed no emotion as sections of the 64-page judgement were read by Mr Justice John Edwards.
The judge rejected arguments Mr Adams could not get a fair trial because of pre-trial publicity and comments by his brother, a delay in bringing charges and changes in the jury selection in Northern Ireland.
"He must look to the courts of the requesting state to protect his rights," Mr Justice Edwards said.
"Those courts would be better placed to deal with those issues."
The allegations were first reported when Ms Tyrell took part in a television documentary in 2009.
Mr Adams handed himself in to police in Dublin last year after a European Arrest Warrant was issued by the PSNI.
On Monday, Ms Tyrell said she was feeling "a bit more positive" after the extradition decision, but added it was "only a baby step".