UVF supergrass case: Stewart questioned about past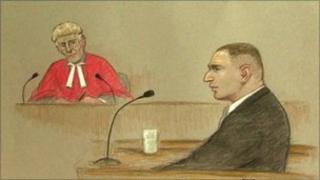 UVF "supergrass" Robert Stewart has denied in court that he tried to pass himself off to police as someone who was basically a "decent guy" who got into the wrong company.
He faced questions about his upbringing and why he joined the paramilitaries.
Stewart is giving evidence against 14 men, nine of whom are accused of the murder of Tommy English 11 years ago.
The trial is the biggest and most expensive to be held in Northern Ireland for many years.
Stewart was not called to the stand on Friday on the advice of a psychiatrist, but was declared fit enough to testify on Monday.
Arthur Harvey QC, defending one of the accused, Alec Wood, accused Stewart of painting a false picture of a young man who did not get into trouble until he went to live on the New Mossley estate as a teenager, and eventually joined the UVF.
The barrister said Stewart and his brother Ian, also due to give evidence at the trial, were "a plague upon your parents".
Stewart conceded: "Well I'm sure they wouldn't have been too proud at times."
Mr Harvey accused him of trying to join a local Presbyterian church as a teenager with the sole aim of meeting young girls at its youth club, before his mother eventually threw him out of the family home when he was 20.
Stewart told him: "You might make me out to be some kind of monster. Maybe at times I was that."
Mr Harvey replied: "Whatever you were, at times you tried to disguise what you were."
Later Stewart described his alcohol and drug abuse for a period of 14 years, having told the police how he and others once put a thousand "E's", or ecstasy tablets into four cups of tea and drank the results.
At one point the Judge, Mr Justice Gillen warned the defendants about their behaviour in the dock, when some appeared to find some of Mr Stewart's comments amusing.
The case continues.
The 14 defendants are being represented by 24 barristers and eight firms of solicitors and the trial is expected to last for 11 weeks.
Nine of those on trial are accused of the murder of Mr English, a senior member of the loyalist group the UDA who was shot dead in front of his family during a feud between that organisation and the UVF .
Both the UVF (Ulster Volunteer Force) and UDA (Ulster Defence Association) are loyalist paramilitary groups responsible for the murder of hundreds of people during the Troubles.
The term supergrass was first used in Northern Ireland in the 1980s when a number of terrorist suspects were convicted on the evidence of fellow paramilitaries.