Civil engineering firm Northstone (NI) reports drop in profits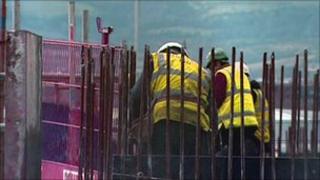 One of Northern Ireland's largest civil engineering firms has reported a decline in turnover and profits as the construction industry continues to struggle.
Northstone (NI) had turnover of £239m in 2010, down 12% from £272m in 2009.
Pre-tax profits showed a marginal reduction from £9.8m to £9.2m.
Northstone's best known operating company is Farrans Construction though it also produces building materials and telecoms access chambers.
The directors said market conditions continued to be "very challenging".
They added that capacity in the market is continuing to "far exceed" demand which is resulting in falling prices for building materials.
Major projects
Margins are also being squeezed by increased input costs, particularly energy and fuel costs.
Farrans' road building activity remains strong with major projects in Scotland but the continued downturn in the other areas of the construction sector led to the overall decline in turnover.
Turnover in the road construction and quarrying division more than doubled to £66m in 2010 while turnover in the building and development arm fell from £206m to £133m.
The directors said that the management of costs had delivered a profitable performance which is "at the upper end" of the construction sector.
Northstone is ultimately owned by the Dublin-based CRH, one of the world's largest building materials businesses.