Mourne Mountains helicopter crash: Man declined seat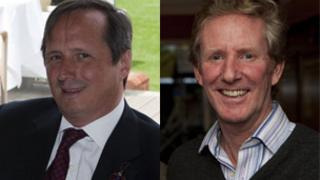 A fourth man had been offered a seat on a helicopter that crashed into the Mournes last year, but did not take it.
The details emerged at a preliminary hearing into the crash on Shanlieve mountain in October 2010. Two passengers and the pilot died.
Coroner John Leckey said local residents had seen the helicopter flying very low and the engine did not seem to be running smoothly.
They said it had disintegrated on impact.
Among those attending the hearing were Melissa Stisted and Thandi Wooldridge - the widows of the two passengers.
Their husbands, Ian James Wooldridge and Charles Duncan Stisted, had been on a shooting weekend in Fermanagh and were flying back to England when the crash happened.
The pilot was Anthony Joseph Smith.
The full inquest is expected to be held in front a jury in February next year and is expected to last five days.