Martin McGuinness and St Paul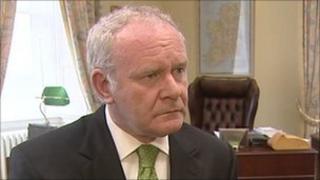 Elsewhere on the BBC website, I've written a piece analysing Martin McGuinness's use of the term "murder" in an interview for the Independent.
If you didn't catch it on BBC Radio Ulster, you might want to listen to this weekend's Inside Politics interview with David Latimer, who continues to defend Martin McGuinness against his critics.
At one point I started to think I was presenting Sunday Sequence, when Mr Latimer referred to St Paul, and I wondered whether he believed the Mid Ulster MP had experienced a road to Damascus conversion.
On a different tack the DUP Finance Minister Sammy Wilson was on good form in the Stormont chamber on Monday, proudly proclaiming his euroscepticism.
Mr Wilson declared he was one of the "better off out campaign".
Sinn Fein's Mitchel McLaughlin asked him to clarify he wasn't speaking for the Stormont executive - a clarification which may be wise given that Europe is due to make its decision next month on funding for the proposed Maze conflict transformation centre.