Stolen car crashed outside Belfast's Errigle Inn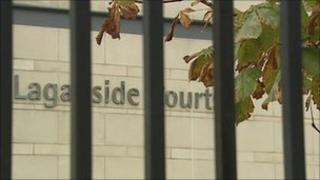 Drinkers could have been killed if a stolen car had not crashed into a vehicle parked outside a south Belfast bar, a court has been told.
A Land Rover was hit so hard in the weekend incident that it was launched into the air, police said.
A man accused of driving into it near the Errigle Inn allegedly told doormen he was on a Continuity IRA mission.
Paul Berne faces 12 charges, including burglary, theft, five counts of assault on police and driving while unfit.
The 25-year-old, of Coolfin Street in Belfast is also accused of aggravated vehicle taking, dangerous driving, disorderly behaviour, obstructing police, and failing to provide a specimen.
Belfast Magistrates' Court heard how the stolen car, believed to be a Toyota Yaris, was taken during a raid on a house in the south of the city early on Sunday morning.
A policewoman said it crashed into vehicles near the Errigle, with staff from the bar then managing to hold down Berne.
The officer claimed he shouted "Continuity IRA, I'm on a mission" and warned they would be shot if he was not released.
Smoking area
She said the stolen car had been travelling so fast that the Land Rover it struck was launched into the air and landed on a second car.
The court was told that the crash stopped it from going into a smoking area outside the bar.
"Police have no doubt that there could have been a fatality if it had not struck the car," the officer said.
Defence counsel Declan Quinn said his client had limited memory of the incident.
The barrister set out how Mr Berne appeared to have taken drink for the first time in 10 months due to domestic issues.
"He took some alcohol and obviously found himself in custody as a result of these matters," Mr Quinn said.
"It does appear to be a car stolen from a house and driven in a reckless manner."
Despite stressing the accused was prepared to be electronically tagged, bail was refused.
Mr Berne was remanded in custody to appear again by video link later this month.